Events
What's the point of learning to write emails? - ChatGPT in the BE classroom
The AI-powered ChatGPT software isn't the first and only AI tool that our students are using to make their emails sound more professional. It's not necessarily a bad thing that they use various tools since their growing autonomy is one of our aims as business language teachers and coaches. But what if they start writing complete emails with the use of ChatGPT, and our work and assistance are no longer needed? Does this mean that AI tools have made our work pointless? Definitely not! It does mean, however, that we have to slightly alter the focus of skills lessons. In this workshop, we're going to look at some practical ways of incorporating ChatGPT in our lessons.
Speaker: Joanna Szoke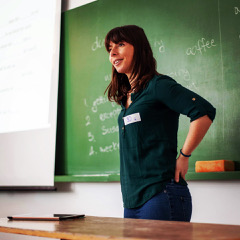 Jo has been teaching English for more than 15 years in Hungary, Poland, and in the UK. Having finished her DELTA, she became actively involved in teacher training. She is a regular presenter at TEFL conferences, a lecturer of ELT methodology at Karoli Gaspar University (Hungary), and a freelance trainer/writer for Cambridge University Press. Her main interests include all forms of online teaching and learning, and assessment and feedback. In her free time, Jo loves going downhill and jumping around in foreign forests on her mountain bike. 
<<REGISTER HERE>>
IATEFL members need to login before registering for this event.
Non members wishing to register for this event must hold a user account with us. If you don't already have a user account then create one by clicking 'Login' at the top left of the screen, then select "create new account". This is free and is quick and easy to do.
To view the IATEFL event terms and conditions please click here
Event details
Event type:
SIG Webinar
Business English

United Kingdom
Fees:
FREE
Whilst everyone is welcome to attend this professional development event, free of charge, certificates of attendance will only be provided to IATEFL members. IATEFL BESIG members will have access to the recording by logging into the Members-Only Area of our website https://besig.iatefl.org/membership-preview/