Events
MaWSIG meets BESIG: 'Making Business English materials that reflect learners' realities'
MAWSIG and BESIG webinar with John Hughes
When it comes to making materials which reflect learner realities, we Business English teachers and writers tend to think we're better at it that most other strands of ELT. After all, it's what we do! We carry out needs analysis, we tailor make the materials, and we adjust the courses to suit changing needs. But can Business English really be so complacent? In fact, are we just as guilty at making materials which – as Kath Bilsborough suggests (IATEFL, 2019) - are far removed from our learners' realities?
In this webinar, I'd like to explore this question by taking a historical look at Business English materials and consider when – in the past – materials writers have got it right (and reflected learner realities) and when they have got it very wrong. We'll begin back in the fifteenth century and travel through materials from the last five hundred years arriving at the present day. We'll also take a look at the evolving definition of Business English and how this has shaped the materials we use today and consider how future materials might do a better job at reflecting learner realities.
At the end of this historical tour, I'll conclude by suggesting that the fundamental skills of the Business English teacher and materials writers are really quite timeless. And that if we truly want to reflect learner realities, we need to view materials writing as three-way co-creative process between the materials writer, the teacher and the learner.
Bio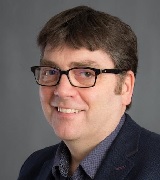 John Hughes has written well over 50 titles including course books and teacher resources. He has been involved as an author on a variety of Business English books including the six-level series Business Result (Oxford), the exam course Success with BEC (National Geographic Learning) and the resource book ETpedia Business English which received BESIG's David Riley Award for Innovation in Business English and ESP. He specializes in training teachers in materials writing and has lectured on the subject at Oxford University. His website is www.johnhugheselt.com.
Event details
Event type:
SIG Webinar
Business English, Materials Writing