Events
Peer Assisted Learning System (PALS): An innovative approach to collaborative learning in high stakes exams such as IELTS
Join IATEFL Testing, Evaluation & Assessment SIG and speaker, Reshmi Murali for this webinar.
How do you promote learner autonomy? How do you maintain learner motivation outside the classroom? How can you develop skills and strategies in your learners to learn collaboratively? These are some of the questions that I aim to address in this webinar on peer-assisted learning system. The findings covered in this talk are based on the experiences conducting several intensive, closed-group, test-prep courses for nursing professionals in India at the British Council. We aim to provide a toolkit to conduct, manage, and benefit from a new way of collaborative learning through peer groups, especially in the context of high-stakes exams.
In this talk, I will give a brief overview of how peer-groups help support self-study and develop motivation and confidence among learners in all contexts including exam prep. It will also outline the challenges faced by teachers and peer groups in conducting these sessions, suggest practical solutions for mitigating these challenges, and ways to monitor, evaluate and manage participation and motivation. The most important feature of the talk is the adaptability of our approach and how these peer-groups can be successfully conducted across many learning contexts.
PRESENTER: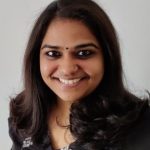 Reshmi Murali works as a Teacher of English for the British Council's English Online. She teaches their suite of English and exam-prep courses for adults with students from around the world and dabble in content and materials development for in-house products, social media, and blogs. Before that, she worked in publishing with Thomson Reuters. In 2022 Reshmi joined the TEASIG Committee in her role as the TEA Today Co-Editor.
She has a degree in English Literature, a CELTA, a certificate in e-moderation, and a certificate in Materials Development (NILE).
---
To view the IATEFL event terms and conditions please click here
Event details
Event type:
SIG Webinar
Testing, Evaluation & Assessment
Fees:
Free of charge
Whilst everyone is welcome to attend this professional development event, free of charge, certificates of attendance and access to the recording will only be provided to IATEFL members.