Events
'Are you a fair tester?' presented by Maha Hassan
Abstract
Supervisors and teachers worry a lot when setting exams. Are we going to be fair towards the students? Should tests be difficult or easy? What is the best way to set them?
Testing not only worries supervisors and teachers but students as well. Will I be able to pass it? I can't concentrate on my studies, what should I do?
Is there a relationship between assessment and testing? Can this help both teachers and students in dealing with test stress?
In this presentation, Maha will speak about the common elements between assessment and testing. She will look at how teachers can put a suitable formative assessment system in place for their students throughout the year to help them go through summative assessment at the end of the year as smoothly as possible. She will also speak about online and offline tools that can help supervisors and teachers set well balanced exams and help them apply them practically during the session.
Bio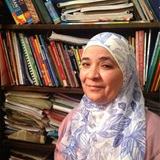 Maha Hassan is an Educational Consultant, Teacher Trainer and Founder / CEO of Teaching ESL Hub (formerly Maha ESL Community). She was nominated for the Lead 5050 Women in International Education Award – WIE 2018, for her work as an Academic Director. She has presented at a number of International Conferences including IATEFL, TESOL International Convention-CALL IS EVO 2018, 2019, K12 Online Conference, TD SIG IATEFL, Nile Tesol, LIF (Language in Focus), Tesol Arabia, Global Education Online Conference as well as at Reinventing the Classroom, Learning Revolution Online Conferences, MMCV7 & 8, CO18, CO19 and MMVC18 with Dr. Nellie Deutsche.  She has also had a number of papers published in IATEFL Voices, Pilgrims, A New Contribution to Bloom's Taxonomy, HEIS International TESOL Newsletter, Nile Tesol Newsletter and Howtolearn.com. She also blogs on: teachingenglishcafe.blogspot.com

Event details
Event type:
IATEFL Webinar