Events
Performative Teaching: How to Develop Drama Facilitation Skills in ELT
IATEFL Webinar presented by Tom Godfrey
The webinar addresses how Applied Theatre (drama) can inform EFL Teacher Education. Typically, Teacher Education is perceived as a scientific discipline prioritising subject knowledge and procedural techniques.
In the webinar I suggest teaching needs to be conceived more as a performative art requiring practitioners to develop skills of a performer. Undoubtedly there are similarities between teaching and performance, not least the fact that teaching involves dealing with human beings and requires the physical presence of teachers and learners and a physical, mental and emotional engagement between them.
The webinar considers, if teaching is considered as a performative art, what performative and meta-performative skills are necessary for successful practice? How can drama methodology be used in ELT teacher education? How can teachers use drama in their professional lives and what additional facilitation skills do they need to utilise drama techniques in the classroom effectively and having identified what those skills are, how can teachers acquire these skills? What are the barriers that need to be overcome?
---
About the Presenter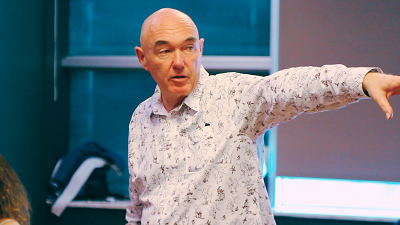 I have always had a passion for the theatre having directed and acted in many shows while working as an EFL teacher and teacher trainer around the world. These two interests recently aligned as I completed an MA in Applied Theatre at Exeter University focusing on how Applied Theatre can inform Teacher Education.
I'm the Director of International Training Institute (ITI) which is a centre for teacher training and development and an ELT consultancy and I completed my MA TEFL at Reading and Ed.D at Exeter University, UK. I also deliver workshops on using Drama in ELT and Forum Theatre for Teacher Development.  I am founder of Speech Bubbles Theatre Group which performs to raise money for charities that support education and children in Turkey. Additionally, I'm making a documentary film about the experiences of training to be an ELT teacher.
To view the IATEFL event terms and conditions please click here
Event details
Event type:
IATEFL Webinar