Brief summary of the SIG event
Join IATEFL Business English SIG for this webinar with Ishita Ray.
Equipped with mirror neurons, our brains are naturally designed to be empathetic. On the flip side, when facing hostile situations, they can also mirror the aggression. Despite best intentions, mirroring can be received differently by our communication partners. How, then, can we optimise mirroring to make communication effective and inclusive? This webinar will explore contexts and situations where mirroring can either be the best friend or the worst enemy in communication.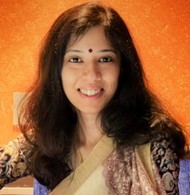 Ishita Ray is a Learning Consultant with more than a decade of combined experience in academia and corporate sectors. She has formerly worked at Tata Consultancy Services, where she designed learning content and strategy for online and face to face programs in Business and Intercultural Communication. She has also taught English and French in educational and corporate organisations.
---
To view the IATEFL event terms and conditions please click here
When
18th April, 2021 3:00 PM
SIG Events
| | |
| --- | --- |
| Which SIGs are involved in this event? | Business English |
International event times
Fee Details For Website
| | |
| --- | --- |
| Fee Details - displayed on website | Free of charge |