An IATEFL monthly webinar presented by Lalitha Murthy
Since ancient times, questioning has been an important tool for interaction and building interpersonal skills.  Questions have led to discoveries, challenge existing beliefs, and have led to new discoveries and inventions. Questioning is important to clarify, to understand, and reinforce learning. However, it is very important in developing other skills too.
Today much is talked about 21 Century skills; Learning skills, literacy skills, and life skills. With access to social media, information is at the fingertips of all. However, discerning between fact and opinion, fake and real is the job of the reader and in this, critical thinking skills help. Learning skills are collaboration, communication, critical thinking, and creativity. All these are interconnected and the one tool which binds them is questioning. Questioning helps students to develop their thinking from the lower-order concrete and factual recall type to the higher-order analytical and evaluative which promotes deeper understanding. 
This webinar explains, with relevant examples and exercises, how questions can develop critical thinking skills which in turn helps in problem-solving and decision making.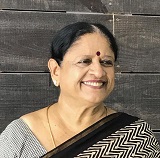 Lalitha Murthy, based in Bangalore, India, is a Business English trainer. She has been an IATEFL member since 2005. She has worked with various companies that provide IT solutions in the offshore model. She has presented at two IATEFL Besig Annual Conferences (2006 and 2010), and in the International language fair in the IATEFL conference in 2017.
She was also the Indian host of the first simulcast conducted by IATEFL Besig in 2012. She has presented in the IATEFL Besig online symposium twice.
Please note that whilst this webinar is open for all to attend, certificates of attendance and recordings of the session are only available to IATEFL members and can be accessed via the member dashboard.
To view the IATEFL event terms and conditions please click here
When
5th December, 2020 3:00 PM
International event times
Fee Details For Website
| | |
| --- | --- |
| Fee Details - displayed on website | free of charge |