Events
MaWSIG Hybrid PCE 2023: Materials creation: More than just the student's book
Join IATEFL Materials Writing Special Interest Group (MaWSIG) for their 2023 Pre-Conference Event on 17 April 2023.
When considering learning materials, it's easy to focus on the student's book, and to overlook the fact that materials creation involves a wide variety of other components. In our 2023 PCE, we're exploring other aspects of our work, including the various elements of a coursebook package, learner reference materials, materials that teachers write for their own classrooms, and resources that learners access through social media. In fact, we'll be talking about everything but the student's book!  
These are some of the key questions we are hoping to answer:
What skills are involved in developing different material types?
What principles underlie this area of materials creation?
How do the materials reflect current thinking on teaching and learning?
How might someone get involved in this type of materials creation?
What are your top tips for creating these materials?
The day will be packed with talks on the approaches that materials developers take in different contexts. We will cover a range of materials that supplement, extend or even replace the student's book. There will be plenty of opportunities for networking throughout the day.
This will be a hybrid event. Participants will be able to join us in person or via Zoom on the PCE day. They will also be able to access recordings of the sessions after the PCE.
Note: Online booking is now closed - however you can register and pay on site, on the day of the event.
We look forward to seeing you there. 
Please click on the image to view the map: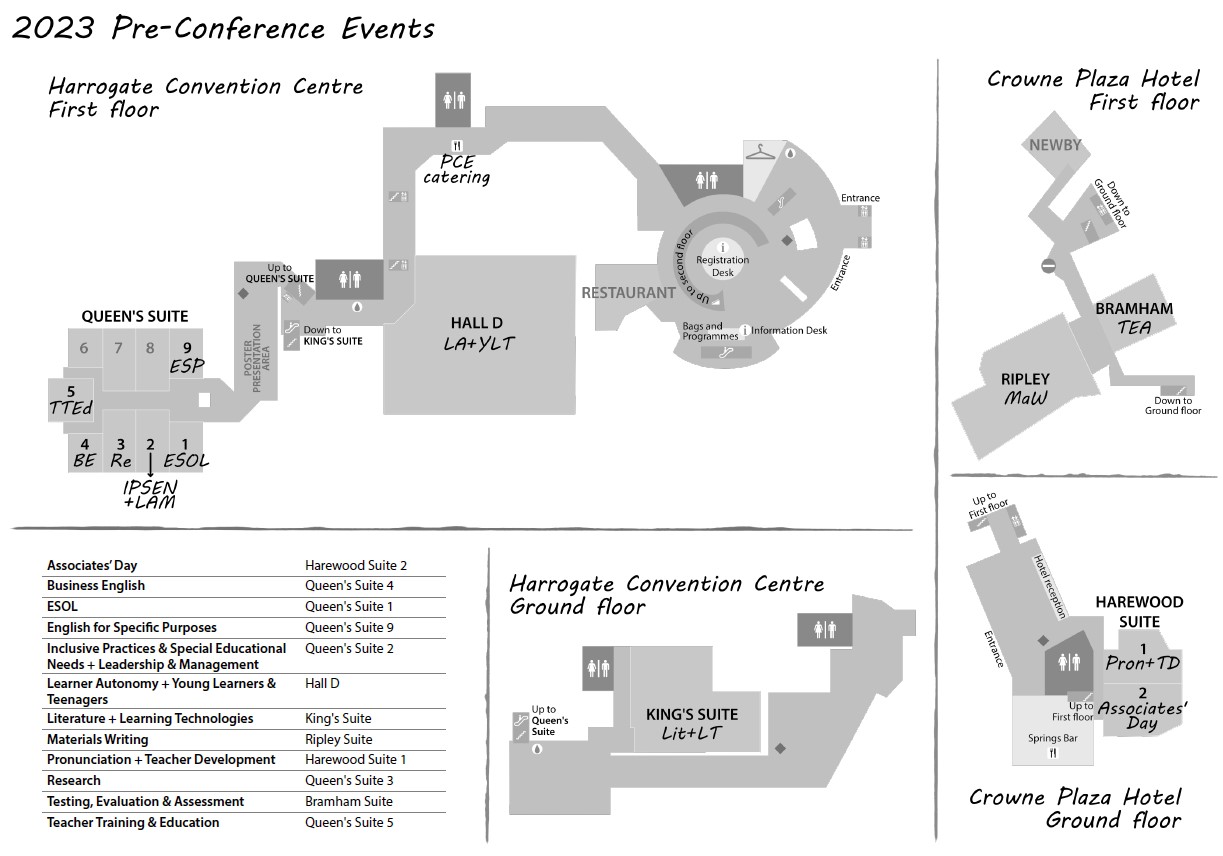 ---
To view the IATEFL event terms and conditions please click here
Event details
Event type:
SIG Event
Materials Writing
Date:
17/04/2023 - 10:00 until 17/04/2023 - 17:00 UK time

Venue:
Harrogate Convention Centre and Crowne Plaza Hotel
Kings Road
Harrogate
United Kingdom
Fees:
Standard fees: From 12 January 2023
IATEFL members: 73GBP
Non-members: 86GBP
IATEFL members need to login to their member dashboard before registering for this event to receive the member discount.
Non-members wishing to register for this event must login to their IATEFL user account before registering for this event. If you don't already have a user account then create one by clicking 'Login' at the top left of the screen, then select "create new account". This is free and is quick and easy to do. Once you have created a user account, return to this event and then select 'register' to complete your booking.