Events
TEASIG: Best practices in a digital age: Artificial Intelligence and language assessment
Join IATEFL Testing, Evaluation and Assessment SIG for this webinar presented by Arum Perwitasari.
In this webinar, Arum will explore concrete examples of Artificial Intelligence (AI) applications in language assessment? Join us to discover how ETS combines AI and human raters for the improved assessment of test takers while ensuring the highest standards for validity, reliability and security of the TOEFL iBT® test at the same time.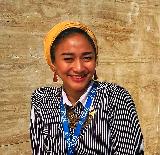 Arum Perwitasari is an Academic Relations Specialist at ETS Global Amsterdam. She is also an experienced educator, ELT enthusiast, academic editor and researcher. She is a member of IATEFL Publications Committee and a certified trainer for the TOEFL® Young Students Series. She holds a PhD in Linguistics from Leiden University, NL.
 
To view the IATEFL event terms and conditions please click here
Event details
Event type:
SIG Webinar
Testing, Evaluation & Assessment