Events
'How to 'Grammar' online'
An IATEFL webinar presented by Radmila Popovic
In this webinar, the presenter will demonstrate different ways of building on the concept of 'grammaring' (teaching grammar as "a skill or dynamic process, not a static area of knowledge", Larsen-Freeman 2003) to create engaging synchronous and asynchronous grammar tasks. 
The presenter will lead attendees through the following steps:
identifying specific learning challenges,
selecting possible synchronous and asynchronous instruction options to address these challenges,
identifying strengths and limitations of these options, and
exploring ways of structuring effective grammar instruction in synchronous and asynchronous modes.
At the end of the webinar, the presenter will share a list of generic grammar activities that can be easily adapted and used in different virtual and blended classroom settings.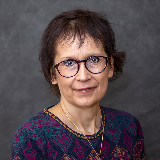 Radmila Popovic has been active in the field of ELT for more than twenty five years as a teacher, teacher trainer, university lecturer and consultant. Before moving to Washington DC in 2011 to work as an education and research specialist for World Learning, she was Assistant Professor in ELT Methodology and Applied Linguistics at the University of Belgrade, Serbia. Radmila has worked on several innovative projects (teacher development at primary & secondary levels, mentoring, curriculum reform in tertiary education) in her native country, Serbia, and in Algeria, Egypt, El Salvador, Georgia, Kazakhstan, Myanmar, Nepal, Kazakhstan, Pakistan, Tunisia, Turkey and USA. Her online course "Teaching Grammar Communicatively" is part of the Online Professional English Network (OPEN) Program. Radmila has professional and research interests in teacher education, E-learning and teaching, second language acquisition, teaching English to young learners, and critical pedagogy.
To view the IATEFL event terms and conditions please click here
Event details
Event type:
IATEFL Webinar