Events
TDSIG PCE 2022: Social and Emotional Learning (SEL) for teachers and learners
Join IATEFL Teacher Development SIG for their 2022 Pre-Conference Event on 16 May.
Social and emotional learning (SEL) is a process through which we "acquire and apply the knowledge, skills, and attitudes to develop healthy identities, manage emotions and achieve personal and collective goals, feel and show empathy for others, establish and maintain supportive relationships, and make responsible and caring decisions" (Collaborative for Academic, Social, and Emotional Learning, n.d.). SEL focuses on five essential competencies:
Self-awareness: understanding our emotions, goals, and values
Self-management: skills that help learners reach their goals including managing stress and challenges
Social awareness: understanding social norms and developing ability to empathize with people from different cultures and backgrounds
Relationship skills: skills required to have healthy and rewarding relationships including listening actively, negotiation, and asking for help when need be
Responsible decision making: considering ethics, social norms, and well-being of others to make constructive choices.
CASEL's framework provides educational communities with paths for developing these competencies: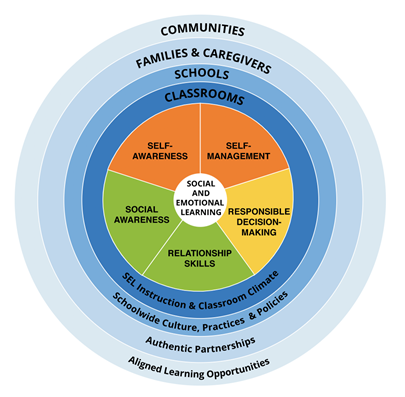 At our Pre-Conference Event at the IATEFL 2022 Conference, we will explore SEL through this framework and work together to apply it to our teaching and learning spaces via experiences and practical uses within our language teaching community. If you have a (un)successful SEL story to share with us or you would like to learn more about SEL, please join us. More detail will be updated here (tdsig.org/pce) as the event approaches!
References
Weissburg, R. 2016, Feb 15. Why Social and Emotional Learning Is Essential for Students. Edutopia. https://www.edutopia.org/blog/why-sel-essential-for-students-weissberg-durlak-domitrovich-gullotta
What is SEL? n.d. Collaborative for Academic, Social, and Emotional Learning. https://casel.org/what-is-sel/
---
To view the IATEFL event terms and conditions please click here
Event details
Event type:
SIG Event
Teacher Development
Date:
16/05/2022 - 10:00 UK time

Venue:
ICC Belfast & Hilton Belfast
2 Lanyon Pl
Belfast
United Kingdom
Fees:
Earlybird - 1 December 2021 - 10 February 2022
IATEFL members: 57GBP
Non members: 70GBP
Standard rate - 11 February - 21 April 2022
IATEFL members: 73GBP
Non members: 86GBP
IATEFL members need to login before registering for this event in order to receive the member discount.
Non members wishing to register for this event must hold a user account with us. If you don't already have a user account then create one by clicking 'Login' at the top left of the screen, then select "create new account". This is free and is quick and easy to do.
Booking fees will increase to the standard rate for those delegates who book but do not pay by the earlybird deadline.